EXPIRY DATE OF COSMETICS CHECK TOOL
How to know cosmetic brand or cosmetic label?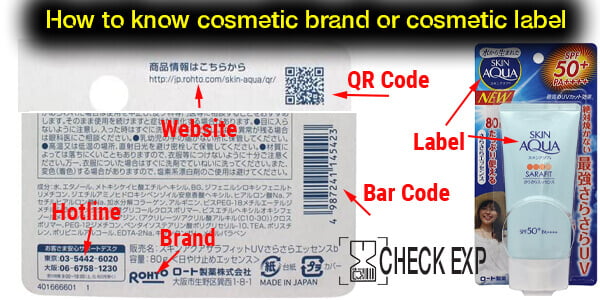 You can find it on the product packages. The manufacturers' names are also printed on the packages.
 You can scan the Barcodes, QR Code on the product packaging on Google to get more information about the product.
You can copy products' names, website or hotline on the package and search them on the Google to get more information about the products such as manufacturers, ingredients, benefits, uses,…
Sent some pictures of product to us or someone.
How to find batch code?
The batch code is printed on the product packaging. The batch code often includes some printed or stamped characters such as 9AL, 0324AB, 200811XA, J1G,…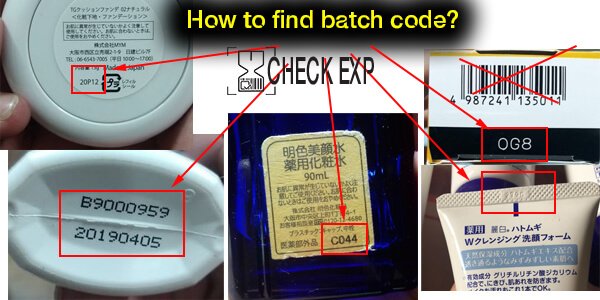 What is the expiration date of cosmetics?
Expiration date is the date after which the cosmetics will be expired and you should not use them anymore since they may lead to possible risks. Normally, cosmetics products have a shelf life period of 36 months. Some cosmetics brands have a longer shelf life.
In some products, the expiration date only counts after you open it. Such products have PAO (period after opening) sign to clarify how long can you use the products once you opened it. It is recommended to use cosmetics products in 12 months after opening it. Find "Period After Opening" sign with a number followed by letter M, for instance, 3M, 12M,…The number indicates how many months the product can be safely used after opening. 12M, for example, indicates that the product can be used in 12 months after you opened it.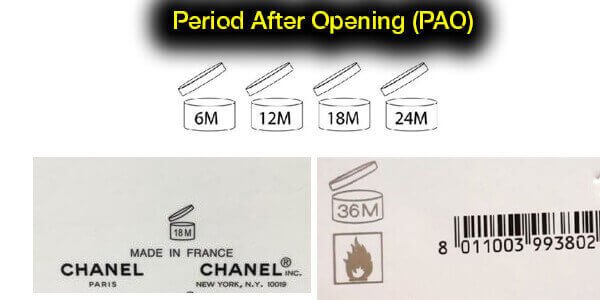 However, this is not an exact expiration date because there are several other factors affecting the quality and ingredients of cosmetics such as light, humidity, temperature, movement,…It is recommended to check the smell, color and texture,…of the cosmetics products after using.
Some product lines have period after opening as follow:
Perfumes, perfume, edp – up to 36 months;
Powders (including blush, eyeshadows powdery texture) – 12 to 36 months;
Foundation in a jar or a cream powder – 12 to 36 months;
Liquid tone means (in tubes or jars with dispenser) – 12 months;
Nail polish – 12 months;
Sun cosmetics – 12 months (but no more than one season);
Lipstick, lip gloss – 12 months;
Pencil (Eye, Lip) – about 12 months;
Skin care products (hydrating cosmetics, wrinkle, eye contour) in a sealed packet with the pump – about a year, in a jar – from 6 to 10 months;
Solid eyeliner and eyebrow pencil – from 6 to 8 months;
Natural/Organic products – up to 6 months.
Bronzing – 6 months;
Mascara – 3-6 months;
Liquid eyeliner – from 3 to 4 months;
How to check expiration date on Checkexp.com? Is it accurate?
We collect data about cosmetics products from various sources. After collecting necessary data, we will analyze the rules of each type of code and bring out a formula, allowing users to check the expiration date.
Because we are not the manufacturers, there can be some errors in the formulas. The Batch code changes every year. Add to that, in some cosmetics products, there are Batch code that we have not seen anywhere else, meaning that the time needed to analyze it will be much longer than a normal batch code. Normally, we need to collect from 500 to 1000 batch codes to analyze and work out a formula. While checking the batch code of a product, if you see something wrong or the batch code is not checked, please send us some additional information so that we can collect and modify our batch code formula. The new code rules will be updated and adjusted to best fulfill your batch code checking demands.
To develop the batch code checking tool, we need the codes sent from you all. Thank you so much for sending them to us.
List of Brands – Labels  Supported
(Lastest Updated 19/01/2022: 596 Brands and Labels)
Baltimor – Балтимор, Kibon, Arau Baby, Bushells, Ladit, Maihada, Imju – イミュ, Woman Essentials, Oxy, Prostyle, Lever 2000, Promedial, Dove, Indulekha, Obagi, Bango, Molton Brown, Bioliss, Laborica, Bigan 美顔, Pitari Sweat, Suave, Auslese, Breyers, Prodent, Pears, Lyons, Tsubaki, Green グリーンアロエ, Sonae, Knorrox, Viktor & Rolf, YSL Yves Saint Laurent, Yue Sai, LVMH, Yukisumi 雪澄, Bubble Kids, Sea Breeze, Predia, Hazeline, Kalina, Steemee, Perfect Whip, Rexona, Indulekha Bringha Oil, John Frieda, Ri-K, Love Beauty and Planet, Wall's, Rerise, Laundress, Lakmé, Excia, Origins, Smashbox, Tom Ford Beauty, Tommy Hilfinger, Too Faced, Acqua di Parma, NAOS, NeoStrata, Colgate, Perricone MD, Giovanni Cosmetics, The Ordinary,
Chicco, Melano CC, Instawhite, Smile, Rosette, SkinCeuticals, Stylenanda, Urban Decay, Valentino, Vichy, Pure & Mild, Kanebo, Solero, Kose, Magnum, Brut, Grandaine, HachimijioganA, Rafhan, Brooke Bond Taj Mahal, Crie, Shiseido, Umi No Uruoisou, Modshair, Oribe, Naive, Sensai, Primavista, Cuñataí, MNBB, VO5, Tigi, Imprea, Toni & Guy, Truliva, Super Pell, Dusch Das, Urara, Kao, Vaseline, Ole Henriksen, Christian Dior, Buly 1803, Loewe, Cornetto, Pintup, Laurier, Nail Holic, Dot Washy, Anastasia Beverly Hills, Fissan, Drive, Pigeon, Kate, Muji, Deoco, Bioderma, Domestos, Crieste, Closeup, Macherie, Clear, Basara, Hada Labo, 丝道琦 – Seedology, Skin Aqua, Kilian Paris, La Mer, Lab Series, Le Labo, MAC, Michael Kors,  Beverly Hills 90210, Kanon, Louis Vuitton,
ECLAFUTUR d, Atrix, Adinogen, BareMinerals, Salonlink, Vivere, Andy, Mama Hug, Fasio, Organics, Brooke Bond 3 Roses, Acnes, Stem Science, Elixir, Lecheri, McColin's, Kracie, Cream Silk, Aupres, Axe, Leise, Zanza No, Sunil, Breeze, Shirochasou, Tsururi, 8×4, Tabinoyado, Inmarko – Инмарко, Maquillage, Elsia, Sofina, Moistage, Pore Clear ポアクリア, Infinity, Pelican, Guhl, Drunk Elephant, Chatox, Ines, Softymo, Calamine Lotion 明色カラミン, Relief, Rokushingan, TRESemmé, proof, Elle 18, Elégance, Grace One – グレイス ワン, Andrélon, Epilat, Happy Moments, 00 PM Citra, Glen Tea, Dr.Perricone, Quickle Joan, Devé, Wrinkle Seraty, Noxzema, PureOra, White Conc – ホワイトコンク, FixFix Make Hack, Rimmel, Savora, Estee Lauder, Glamglow, Jo Malone London, SK-ii, Huda Beauty,
Segreta, Lan-Choo, N.O.U, Lesancy, Kokutousei – 黒糖精, Anna Sui, Pure Dern, Esprique, Dokudami, Episteme, Folicuré, Viennetta, Arumik, Zwitsal, Tarte Cosmetics, Saborino, Bovril, PG Tips, Surf Excel, Kuner, The Stem Cell, OPERA – オペラ, Make Up For Ever, Marc Jacobs Beauty, Officine Universelle Buly, Laura Mercier, Sariwangi, Stephen Knoll, Kampo, Alga Maris, ADDICTION, Aura Scent, Ri-K, Labo Labo, Ettusais, Ignis, Robertsons, Beseda – Беседа, Selecta, Aviance, Aquair, Coral, Blaune, IPSA, Matsuge Omoi, Shiunko, Astablanc Lift Sensation, Essential, Botanical, Esthederm, Nevex, Beaua Products, Coccoapo, Choysa, Sunlight, Mow Shiro, Benefique, Lumina SkinPnk, Vinegarden, Hatomugi Kumano, Seasons シーズンズ, De Ou, Cerave, Keana, Embeage, Emollient 明色エモリエント, Suncut, Editions De Parfums Frederic Malle,  Ermenegildo Zegna, Giorgio Armani, RCMA Makeup,
Kakushimust, Kissan, Dolce&Gabbana, Dplus, ZA, Astaluxe, Footsunny, Lipton, Flair Fragrance, Kumano, Pharmaact, Ihada, Kalina – Калина, Awake, Pot Noodle, Suqqu, Momo Puri, Mylash – マイラッシュ, NARS, Malloa, Maybelline New York, Mixa, Mugler, Niely, NYX Professional Makeup, Dr.Phil, RMK, Z&MA, BrowLash, Tony Burch, AHC, Naturie – ナチュリエ, Sunplay, 美粧AKARI, Miyabi, Hadarela, Caesars, Indulgent Moment, White Lucent, Susies Stand, Provinscia, Timotei, Fu-u, Curel, Handveil, Paul Stuart, Dear Beaute, Synactif, Chirat, Tofu Moritaya-豆腐の盛田屋, Tenunko, Wheel, Wakamatsu, Asience, Maizena, Formule, Kms, Lynx – 凌仕, Day2, And And, Viss, Clinic Plus,Prada, Pureology, Ralph Lauren Fragrances, Redken, Fine-Fit, Happy Bath Day, Canmake, Est, OMO, Hamam, Glaxose-D, Pfanni, Simple, Aroma Resort, Té club, Chinoshio, Freeplus, Granas,
Ichikami, Anessa, Coix Seed, Hellmann's, Cacharel, Dark & Lovely, Decléor, Diesel, Essie, Garnier, Uno, Fissan Baby, Issey Miyake, Matey, Saraya, Jergens, Nail Nail, Joko Tea, Lifebuoy, Kenzo Parfums, KVD Vegan Beauty, Maison Francis Kurkdjian, Marchevon, Tokishakuyakusan, Cif, Narciso Rodriguez, Ponds, Albion Eclafutur, Hertog, Frouge, Fofo, Block & White, Visee, Sanina, Buavita, Albion, Detclear, Nadeshiko, Marna Cosmetics, Hiyashi, Elence – エレンス, AHA BCL, Adidas, 中华 – zhonghua, Sophie La Girrafe Cosmetrics, Uriage, MyKirei, In Fiore, Lux, Jif, Continental, Ti-ina, Fun Fre, Perfect Cover, St.ives, Camay, Rise, Serge Luttens, Aura the Hand/Lip, Senka, Zira, ClearLast, Sunsilk, Hazeline (skin care), Lever Ayush Therapy, Bentley,
Chinowa, Cicavery, SEKKISEI – 雪肌精, Viso, Popsicle, Dr.Ci, Cezanne, Dawn, Sugao, 50megumi, Hadaomoi Suhada, Lancôme, Magic Mask, Maison Margiela Fragrances, Matrix, Fresh, Parfums Givenchy, Guerlain, Forback, CeraColla セラコラ, Ever Long – エバーロング, Rohto, Integrate, Je Laime, BCL, Eskinol, Cle De Peau, Thats So, Captivating Essences, Crystal Beauty, Grace, VitalRich, Conimex, Orezo, Repair & Balance リペア&バランス, Hyalmoist ヒアルモイスト, Natura Cera – ナチュラセラ, Q-típ, Moist Labo モイストラボ, Nature & Co, Limo Limo リモリモ, Pearl, Duschdas, Meishoku 明色化粧品, Wipol, Cup-a-Soup, Prior, Skip, Recipe, Comfort, Etat Pur, Moist Labo Flora モイストラボフローラ, Care Cera, WW Medi Shot 薬用メディショット, Darphin Paris, Clinique, DKNY, DonnaKaran, Dr.Jart +, Paul & Joe,
Moistlabo Ray, Sufu, Impulse, Remoist リモイスト, DNA, DECORTÉ, Annapurna, Ishizawa, Hadabisei, Haku, Nivea, Majolica Majorca, P/S, Cha Ling, Fenty Beauty by Rihanna, Dejavu – デジャヴュ, Olly, Goldwell, Alblanc, Aube, Helena Rubinstein, Kérastase, Kiehls Since 1851, La Roche-Posay, Unox (food), Beauty Training, Cremissimo, White&White, ZACT Lion,Atelier Cologne, SHU UEMURA, Azzaro, Biotherm, LION KODOMO, Dprogram, Ayush, Alberto Balsam, EYE PUTTI – アイプチ,, Mustang, Ellen Tracy, Anne Klein, Adrienne Vittadini, Windjammer, Clear Turn, Breyers Delights, Sebamed, Mondamin, Puffy Pod, Vixal, Colmans, Brooke Bond Taaza, Momotani, Pot Noodle, El Straight Pro – エレンス ストレートPRO, JILLSTUART, Pure Derm, Liril, Le Sancy, Ag DEO 24, Biore, Aqua Label, Athletia, Aloins Japan,
Lion Corporation JP, Versace, Ph Japan, Victoria Secret,  JRS Corrporation, DHC , 株式会社JRS, Kyusoku Jikan, CLINICA, Femico Amino, Benefit Cosmetics, BITE Beauty, Premish, Pair Acne, Hadakara, Pro Tec, OCT Serapie, Soft in 1, Mouhatsuryoku, Barugasu, Fleuria, Vitalis, KireiKirei, Ban,  NONIO, Lightee, Dent, SYSTEMA, Uruoi 明色うるお泡美人, Heliowhite, Mamma Donna, Glow & Lovely, One by Kose, Revital, Hitect Shoyaku no Megumi, Etiquette Lion, PH Care,L'Oréal – LOreal, XYLIDENT LION, Liodent, Paradent ACE, Aerin, Arimis, Aveda, Bobbi Brown, Bumble and Bumble,  It Cosmetics, Palm Beach Beaute,  Aubusson, 
 Disclaimer
The information on this Web site is provided for informational purposes only. Maybe some of the data we haven't updated found yet.
Website visitors should take specific advice from product manufacturer or authorized dealer before undertaking any action following information received from this website.
The web site owners and publishers do not accept any responsibility or liability whatsoever whether in contract, tort, equity or otherwise for any action taken as a result of reading, or reliance placed on the web site because of having read, any part, or all, of the information in this website or for any error, inadequacy, deficiency, flaw in or omission from the information provided in this site.
Make The Tool Better
"A Brand has many Batch Code formats. We are collecting data from various sources. So we need your help if you have the new batch code or new brand. We will make it better. Thanks for your contribution!"