EXPIRY DATE OF COSMETICS CHECK TOOL
How to use batch code checker – cosmetic calculator
Step 1: Search brand and select a brand.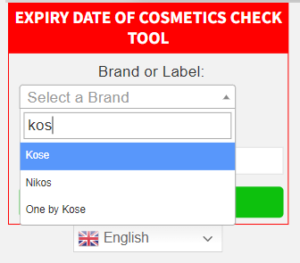 Step 2: Find the batch code on the product and fill in the batch code box.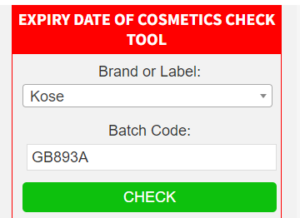 Step 3: Click the "CHECK" button.
How to know the cosmetic brand or cosmetic label?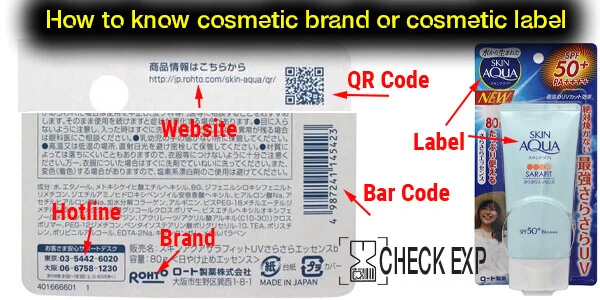 You can find it on the product packages. The manufacturers' names are also printed on the packages.
You can scan the Barcodes, QR Codes on the product packaging on Google to get more information about the product.
You can copy products' names, websites, or hotlines on the package and search them on Google to get more information about the products such as manufacturers, ingredients, benefits, uses,…
Sent some pictures of the product to us or someone.
How to find batch code?
The batch code is printed on the product packaging. The batch code often includes some printed or stamped characters such as 9AL, 0324AB, 200811XA, J1G,…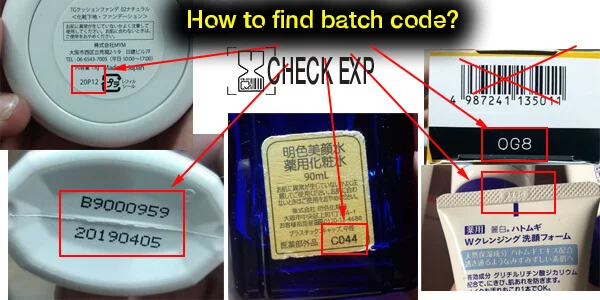 What is the expiration date of cosmetics?
The expiration date is the date after which the cosmetics will be expired and you should not use them anymore since they may lead to possible risks. Normally, cosmetics products have a shelf life period of 36 months. Some cosmetics brands have a longer shelf life.
In some products, the expiration date only counts after you open it. Such products have PAO (period after opening) sign to clarify how long can you use the products once you opened them. It is recommended to use cosmetics products for 12 months after opening them. Find "Period After Opening" sign with a number followed by the letter M, for instance, 3M, 12M,…The number indicates how many months the product can be safely used after opening. 12M, for example, indicates that the product can be used 12 months after you opened it.
MFD, MFG, MAN, MD, P, 제조, 生产日期, 加工年月日: Manufactured date.
EXP, ED, E, 까지, 保质期, 消费期限, : Expired date.
BE, BBE, 賞味期限: Best Before End
(Tip: You can translate something on the box by using Google Translate app on a smartphone and tapping the camera icon. It will scan to translate)
PAO: Period After Opening.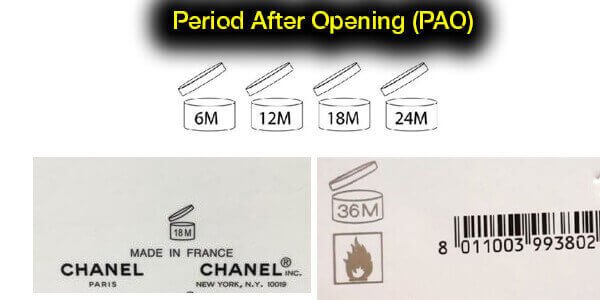 However, this is not an exact expiration date because there are several other factors affecting the quality and ingredients of cosmetics such as light, humidity, temperature, movement,…It is recommended to check the smell, color, and texture,…of the cosmetics products after use.
Some product lines have a period after opening as follow:
Perfumes, perfume, EDP – up to 36 months;
Powders (including blush, eyeshadows powdery texture) – 12 to 36 months;
Foundation in a jar or a cream powder – 12 to 36 months;
Liquid tone means (in tubes or jars with the dispenser) – 12 months;
Nail polish – 12 months;
Sun cosmetics – 12 months (but no more than one season);
Lipstick, lip gloss – 12 months;
Pencil (Eye, Lip) – about 12 months;
Skincare products (hydrating cosmetics, wrinkle, eye contour) in a sealed packet with the pump – about a year, in a jar – from 6 to 10 months;
Solid eyeliner and eyebrow pencil – from 6 to 8 months;
Natural/Organic products – up to 6 months.
Bronzing – 6 months;
Mascara – 3-6 months;
Liquid eyeliner – from 3 to 4 months;
How to check the expiration date on Checkexp.com? Is it accurate?
We collect data about cosmetics products from various sources. After collecting the necessary data, we will analyze the rules of each type of code and bring out a formula, allowing users to check the expiration date.
Because we are not the manufacturers, there can be some errors in the formulas. The Batch code changes every year. Add to that, in some cosmetics products, there is a Batch code that we have not seen anywhere else, meaning that the time needed to analyze it will be much longer than a normal batch code. Normally, we need to collect from 500 to 1000 batch codes to analyze and work out a formula. While checking the batch code of a product, if you see something wrong or the batch code is not checked, please send us some additional information so that we can collect and modify our batch code formula. The new code rules will be updated and adjusted to best fulfill your batch code checking demands.
To develop the batch code checking tool, we need the codes sent from you all. Thank you so much for sending them to us.
List of Brands – Labels Supported
(Latest Updated Jul 10th 2023: 1211 Brands)
Moisture ウテナ モイスチャー, Just, Chatox, Dark & Lovely, Era, Lancome, Sebamed, Narciso Rodriguez, idalabo, Bioderma, Anessa, Teraxyl, Helena Rubinstein, Malloa, IDA Corporation, Charmin, Oust Descalers, Kampo, Fissan Baby, Skip, Terra, Everish エブリッシュ, NONIO, Osis+, Perfect One パーフェクトワン, KVD Vegan Beauty, Aerin, James Bond 007, Enrique Iglesias, Vespa, Lacoste Fragrances, Paixao, Gabriela Sabatini, Kimora Lee Simmons, Necessaire, Utena ラムカ, Caesars, Moist Labo モイストラボ, Moist Labo Flora モイストラボフローラ, Igora, Scope, DécapFour, St.ives, Crieste, Bully, KIWAMIFUDE Koji, The Stem Cell, Aroma Resort, El Straight Pro – エレンス ストレートPRO, PURE BEAU ESSENCE JG, Hamam, Wellphoria™, Niely, Vs Sasoon, Pril, Wipp Express, Denivit, La Toja, Tigi, Burberry, Chanel, Milk Makeup, 牛乳石鹸共進社, HourGlass Cosmetics, Amyris, Farmasi, KissMe Ferrme キスミー フェルム, Heroine ヒロインメイク,
Indulekha Bringha Oil, Q-típ, N.A.E. Naturale Antica Erboristeria, Amano アマノフーズ, Repair & Balance リペア&バランス, Kumano, Bonderite, Knorrox, Venus, Pore Clear ポアクリア, Clearblue, LOreal, Salonlink, Bref Sonasol WC, Clinic Plus, Valentino, ABLE C&C, Lever 2000, Zevo, Albion Eclafutur, Mintia ミンティア, YSL Yves Saint Laurent, Vichy, Tone, Sea Breeze, ALFRED SUNG, AllSaints, Almay, Costa Brazil, Anne Klein, Shinnihonseiyaku Co (新日本製薬), Jergens, BCL, DHC, Snuggle, Alga Maris, Fun Fre, Sophie La Girrafe Cosmetrics, Vape, Clinique, Bentley, Micolor, Uno, Pepto-Bismol,Younique, Ivory, #mydentity, Head & Shoulders, Maison Margiela Fragrances, Odoroki おどろき野菜, Alterna, Noxzema, 82X, Collegenetics, Color Rush Collection, Devoted Creations, Issey Miyake Parfums, 心机彩妆, 怡丽丝尔, The Ginza, Andalou Naturals, 姬芮, Seedbeauty, NMN, Babor,
Michael Kors, Andrélon, Aesop, Beology Schwarzkopf, Pravana, Elence – エレンス, Fewa, Resistol, Moistage, Savora, Chasty, And And, Theramed, ADDICTION, Metylan, Silan, VitalRich, Suqqu, Strait Styling, Z&MA, KOJI 3DEYES Koji, Le Sancy, Saborino, Dr Perricone, PUPA – 뿌빠 – 宝柏, Stephen Knoll, Dprogram, Dawn, Downy, Bemezcla, 纳西索 罗德里格斯香水, 艾杜纱, 安肌心语, Vidal Sasoon, Kilian Paris, Sellotape, Grace One – グレイス ワン, American Crew, Britney Spears Fragrances, Charlie, Mr. Clean, SEKKISEI – 雪肌精, Hadariki, Nenaito ネナイト, Blue Star, Kms, Foot Este, SOL Body, Bison Corporation – 株式会社バイソン, Christian Dior, Luvs, Aquair, Parfums Givenchy, Somat, Premium Puresa プレミアムプレサ, Liftage リフタージュ, Tenunko, Mapepe, Aubusson, Laundress, Dear Beaute, Freshlight, Shamtu, Xtreme, Chicco, Glamour Collection, Golden Sol, H.I.M, D&G, E.T. Browne Drug Company,
Schauma Schwarzkopf, Meishoku 明色化粧品, Ponds, Fissan, Hyalmoist ヒアルモイスト, ipro, Esthederm, Nature & Co, Indola, Le Labo, Spee, Skin Aqua, Ines, Frouge, Kiehls Since 1851, Lux, Buly 1803, Losk, Ponal, Brillance, Bushells, Nordic Blonde, OCT Serapie, Sanina, Dot Washy, Conimex, Coloria, Tolu, Kenzo Parfums, 芬迪, Nadeshiko, Max Factor X – 맥스팩터 – 蜜丝佛陀, Emollient 明色エモリエント, Revital, Pharmaact, Bourjois, Kylie Skin – Kylie Cosmetics by Kylie Jenner,JVN, Calvin Klein, SLEPIA, TANCHO, WALKSHIP, Celine Dion, Covergirl, Lady Gaga, Mexx, Vivienne Westwood, Infinity, Benefit Cosmetics, Persil, Magnum, Natura & Co, Wrinkle Seraty, DKNY, Color & Art, Sparks, Curel, DNA, Wheel, VO5, Diesel, White Conc – ホワイトコンク, Sista, Vim, Bio Presto, Chinoshio, Sufu, Femico Amino, Anastasia Beverly Hills, Align, DonnaKaran, Olly, Der General, CeraColla セラコラ, Perfax, Riesling, X-TRA, Lysoform, Kalina, Intensity Line, Lil Bit Country, Pauly D Collection,
Me & Her ミーアンドハー, PureOra, Miror, ClearLast, Pro Tec, Hitect Shoyaku no Megumi, Wall's, Kérastase, Essie, Dial, Christina Aguilera, CND, Creme of Nature, Pot Noodle, Sun Laundry & Dish, Ettusais, Agorex, Diadem, Pampers, Provinscia, Annapurna, Suave, Domestos, Mas, Coccoapo, Braun, Kindness, Promedial, Mugler, Nail Nail, Happy Bath Day, Pintup, Beseda – Беседа, Bovril, FixFix Make Hack, 大宝, Philosophy, Stella McCartney, Tiffany & Co, Balenciaga, Miu Miu, David Beckham, Roberto Cavalli, Love2Love, Aura the Hand/Lip, Maxima, Naturie – ナチュリエ, Rose Inc, Havu Mäntysuopa, Marchevon, Huda Beauty, Fenty Beauty by Rihanna, White Lucent, NeoStrata, Pipette, Continental, Azzaro, Boston, Melano CC, Fixodent, Cacharel, Sonae, Molton Brown, Perwoll, White&White, UniBond, MASHIRO Inc, COW BRAND SOAP KYOSHINSHA, Arumik,
HachimijioganA, Pattex, Zotos Professional, DECORTÉ, Collagen Asta パーフェクトアスタコラーゲン, Yukisumi 雪澄, Cascade, Formule, Clear, Gillette, Tommy Hilfinger, Aviance, Forback, 水之印, 肌肤之钥, Effectim, Labo Labo, K2r, Giorgio Armani, Syoss, Limo Limo リモリモ, Alteya Organics – 알티야오가닉스 – 保加奥图, Purecane, Viennetta, Authentic Beauty Concept, IPSA, Albion, Dokudami, Iba, Prology プロロジー, Palmer, Witte Reus, PH Care, Cremo, Luminance, Glaxose-D, Nevex, Cheer, Shiseido, Alberto Balsam, Glen Tea, Dplus, MAINICHI, Sweets Sweets Tokyo, Ballerina, Smile, Senka, RMK, NARS, Unox (food), LUCIDO-L, M4, Simplity, Curve, Cutex, D:fi (Dfi), Ed hardy, Puffy Pod, Maison Francis Kurkdjian, Awake, Simple Balance シンプルバランス, Moment, Old Spice, Dreft, Weißer Riese, Adrienne Vittadini, Vigor, Kose Cosmeport,
Origins, Simple, Dejavu – デジャヴュ, Etiquette Lion, Diosa, Got2b Schwarzkopf, Grandaine, Kao, Loctite, Obagi, Lipton, Kenra Professional, iseHan, Coutureup クチュールアップ, Hawaii, Hadarela, Laborica, Momotani, Recipe, Kinsale Candles, Blance Kondate バランス献立, KireiKirei, Magiabotanica マジアボタニカ, Baltimor – Балтимор, Jif, Laura Mercier, Econ, Procter & Gamble, Meta, Surf, MAC, SexyHair, Matey, IDA Laboratories, Heliowhite, Ignis, Big D, tbh – true beautiful honest, SYSTEMA, Rise, Drunk Elephant, Excia, SK-ii, Wakamatsu, LAPOTHICELL – 라포티셀 – 莱泊济源, Cle De Peau, Cerave, Tom Ford Beauty, Steemee, Menolabs, Chifure, Choysa, Nature Box, Fester, Captivating Essences, Aqua Label, Polybit, Dove, Soft in 1, Lord Sheraton, Camay, Woman Essentials, Robertsons, Paul Stuart, Atrix, Fourth Ray Beauty, John Frieda, Solvite, Asahi, Redken, Perlan, Timotei, Flair Fragrance, Crie, Fofo, Mylash – マイラッシュ, Kose, Happy Moments, 8×4, Smashbox, Color Expert, Lumice ルミーチェ, Folicuré, Pears, Citra,
Hiyashi, Tony Burch, Fab, BITE Beauty, Cuñataí, Jo Malone London, Stem Science, Punch Dishmatic, Dac, Seah, Kuner, Instanet, Maybelline New York, Aura Scent, Blance Up バランスアップ, Vinegarden, Make Up For Ever, BOURJOIS – 부르조아 – 妙巴黎, The Art of Shaving, Versace, Super Croix, Issey Miyake, Swiffer, Secret, Benefique, Crest, Tec Italy, Merfini メルフィニ, Hada Labo, IDA Ryogokudo, Native, fleuril, E (Henkel), Matsuge Omoi, Susies Stand , Cream Silk, Lesancy, Etat Pur, Susie N.Y スージーニューヨーク, Luomo ルオモ, Tsururi, Ihada, Neutrakal, Eparcyl, Teroson, Snowberry, Uruoi 明色うるお泡美人, Rerise, Bebe Young Care, Dabao, Piz Buin, OLIKA, AHA BCL, Chousei Food クリーム玄米ブラン, Tide, Macherie, 1pon Manzoku 1本満足バー, Vixal, Fu-u, Esprique, Esprit, Madonna, Nikos, Bottega Veneta, Kylie Minogue, Escada, Jette Joop, Cenoura Bronze, Jovan, Rique, Eon Productions, Dearr Natura ディアナチュラ, Vivere, Thats So, Softymo, Devé, Sunplay, So Naughty Nude, Soho Collection, Tempo Line, #Tanlife,
Chinowa, Lifebuoy, Mad About, Asience, Sunlight Unilever, Lion Corporation JP, Mamma Donna, In Fiore, Momo Puri, Essential, Fleuria, Juicy Salt ジューシィソルト, EYE PUTTI – アイプチ, Anna Sui, Kokutousei – 黒糖精, Diadermine, Sugao, Technomelt, Adidas, WC Frisch, Gracy, Naive, Tampax, Liodent, Biotherm, Deni, Omi, Beauty Formulas, Hertog, Kakushimust, Nectra Color Schwarzkopf, GB, HappyDeo, LUCIDO, Inmarko – Инмарко, ZACT Lion, Stila – 스틸라 – 诗狄娜, Imprea, Kibon, Predia, ZA, Dr.Ci, Terasana, BrowLash, 三宅一生香水, 茵芙莎, 碧丽妃, Purex, Indulgent Moment, Bloom, Imju – イミュ, McColin's, WK Ultra, Zanza No, Fasio, Bruynzeel, SkinCeuticals, Miyabi, Kate, Ellen Tracy, Charlie Banana, 可伶可俐, Country Colors Schwarzkopf, Acnes, Dixan, Croc Odor, Lightee, Bounty, Altezza, De Ou, Kaminomoto,
Officine Universelle Buly, Care Cera, Blendax, Bango, Lamuca ラムカ, Vernel, Handveil, Mow Shiro, Bioliss, Bubble Kids, Goldwell, Footsunny, Maihada, Pearl, Dent, Orezo, Joko Tea, Duschdas, Pitari Sweat, Pure Derm, Pigeon, Windjammer, Gain, PG Tips, Aloes Organic Essence In アロエス ウォータリングゼリー, joy+glee, Closeup, Maizena, Rohto, Brooke Bond 3 Roses, Serge Luttens, Premish, Prilosec OTC, P/S, Magic Mask, Catch, Hadaomoi Suhada, Osis+ Session Label, EKSPERIENCE, Elizabeth Arden, ちふれ, Gatineau Paris, Laska, Konzil, Shitaji ウテナ, Sofina, Rosy Rosa, Dixi, Beyonce, Halle Berry, Jil Sander Fragrances, Tim McGraw, Lancaster, Coty Inc, Monange, Davidoff Parfums, It Cosmetics, Suncut, Cicavery, Dolce&Gabbana, Kiss キス, Heavy Rotation ヘビーローテーション, SHU UEMURA, Cellapy – 셀라피 – 思理肤, Stripes, Arumik, Natural Styling, Taft, SK Men Schwarzkopf, Epilat, Pfanni, Truliva, NYX Professional Makeup, Botanical Esthe, Dr.C.Tuna
Essensity, Nelsen,Predire Paris, 卡尼尔, 玑妍之光, Acqua di Parma, 美宝莲纽约, Laurier, Perfect Whip, Giovanni Cosmetics, Cup-a-Soup, BareMinerals, Ag DEO 24, Uriage, Proqualite プロカリテ, HR赫莲娜, Elixir, Zwitsal, Dixi logo, Joico, 圣罗兰美妆, Olay, Intercosmo, Pf-Cover, 醉象, 'Pulp Riot', CLINICA, Perricone MD, ジャパンギャルズ, Too Faced, Viso, Vaseline, ECLAFUTUR d, MNBB, Deoco, Vapona, HONESI – 어니시 – 欧妮希, Aloge Hadariki, Ebios エビオス, Barrier Repair, Bifesta, GATSBY, Je Laime, Prior, Hazeline (skin care), CBIC, La Mer, 资生堂, Ri-K, Yuzuyu ゆず油, Unilever, Dylon, Mustang, Always, AHC, Est, Maquillage, Stylenanda, JILLSTUART, HALSTON, 思妍丽, 阿玛尼, LePage, Cascola, Drive, Viking, Rafhan, Beauty Training, Garnier, Makroflex, Muji, Adenogen, 泊美, Block & White, 3CE, Athletia,
Organics, Decléor, Tarte Cosmetics, 适乐肤, Lever Ayush Therapy, Only Love, 悠莱, Biore, Rexona, RCMA Makeup, Prostyle, Rex, 露得清, Surf Excel, Fibreplex, Shizuku 素肌しずく, ElastoSello, 修丽可, Ariel, Neutrex, Love Beauty and Planet, Pureology, Breyers, Estee Lauder, Umi No Uruoisou, Aupres, Elsia, Impulse, Always Discreet, EcoFabulous, Septifos, Crystal Beauty, Antica Erboristeria, 迪塞尔, Cha Ling, Hadakara, Pro Nature, Axe, 羽西, Men Perfect Schwarzkopf, Kit Racines, Barugasu, GREY FLANNEL, General, Selecta, Clin, Massini Lady マッシーニ レディ, Le Chat, Atelier Cologne, Pearl Drops, KissMe Mommy マミー, Base&C ベースアンドシー, Astablanc Lift Sensation, Natural & Easy Schwarzkopf, TRESemmé, Sunil, Fendi, Nailist Koji, Spring Heart Koji, Skinbetter,
Palette Schwarzkopf, Kracie, Lecheri, Pure Dern, Oribe, Wakodo, Toni & Guy, Mouhatsuryoku, Arau Baby, Kiko Milano Cosmetic, Eskinol, Lakmé, Maui Moisture, Exuviance, Granas, Basara, Episteme, Giorgio, 欧珀莱, BC Bonacure, Sunlight Henkel, Canmake, 卡夏尔, Ever Long – エバーロング, Maison Verte, Salvo, Pantene, 兰蔻, Solero, 艾惟诺, Fine-Fit, Aveda, 安热沙, WW Medi Shot 薬用メディショット, Hellmann's, Sengdo – 생활도감 – 生活道感, 拉夫-劳伦, Country and Stream, Borghese Fragrance, Pritt, Punch, Lash Concierge Koji, OUAI HAIRCARE, Line Beat Koji, Prada, Wipol, Blaune, OPERA – オペラ, 华伦天奴美妆, Keana, Guhl, Elle 18, Buavita, Cucal, Astraea V, Maison Margiela Replica Collection, Juicy Cleanse ジューシィクレンズ, Editions De Parfums Frederic Malle, Dr.Phil, Dato, Elemis, Glysolid,
Mama Hug, Osi, Supreme Selection, 悦薇, 维果罗夫, BODY HOLIC – 바디홀릭 – 柏迪柯, Freeplus, Oil Ultime, N.O.U, Herbal Essences, Seasons シーズンズ, LION KODOMO, Ole Henriksen, Texmex Tokyo, Novelle, Pelican, LVMH, 衰败城市, Pure Color, Grey, Brut, 薇姿, Kissan, Vademecum, OMO, [3D]Men, Koji Honpo, Cover factory Koji, Clean & Clear, Lubriderm, OGX, Kalina – Калина, 美粧AKARI, iMared アイマレッド, Liquid Lip Shield リキッドリップシールド, 科颜氏, Microban 24, Hurricane, Viva, Beaua Products, BlondMe, Puffs, Tangit, Guang Ming, Embeage, 法国欧珑, Bouncia, 欧莱雅, 碧欧泉, NBC, Cimsec, Sensai, Super Pell, Popsicle, Bekron, Profael, Bigan 美顔, Perfect Mousse, The Body Shop, 植村秀, 50megumi, Baum, Supreme Keratin, Urara, Mondamin, 理肤泉, LIVE Schwarzkopf, Bumble and Bumble, Lyons, Estrella, Soft Scrub, P&G, Treaclemoon
Nail Holic, La Roche-Posay, Aussie, Clear Turn, Kanon, Paon Essence Rich, Poly Color Cream Hair Dye, Bobbi Brown, Eau Ecarlate, Dynamo, Sunsilk, Perfect Cover, Aloins, Tsubaki, Pur, This is L, Ladit, Colgate, Slim Up Slim スリムアップスリム, Aroa Hadariki, Pemolux, Marc Jacobs Beauty, Palm Beach Beaute, Quickle Joan, Mixa, Bref, Cezanne, Coral, The Ordinary, Louis Vuitton, Haku, Jeannate, JENNIFER ANISTON, Il Bacio, John Varvatos, Juicy Couture, Lucky You, Rimmel, Schwarzkopf, Mefactory – 미팩토리 – 秘法特丽, Pair Acne, Segreta, Kyusoku Jikan, Leise, Prodent, WD-40, Ampleur アンプルール, Blonde, Re-Nature, Coix Seed, Make Lasting Mist 化粧持ちミスト, KissMe Medicated キスミー 薬用, Modshair, Ducato, Cif, Matrix, Remoist リモイスト, Ariasana, Perlana, 艾丽美, Furia, Colour Catcher, YOU Puissant Naturellement, Sidol, Saraya, Licor del Polo, Ichikami, Rokushingan, Küül, Drago, ZzzQuil, Bioline Jato, Rubson, Dum Dum,
Breeze, Hidra, Avon, Darphin Paris, One by Kose, Chantilly, Loewe, Gliss Schwarzkopf, Alblanc, Pert Schwarzkopf, Hadabisei, Té club, Magno, Dusch Das, Sard Wonder, Kanebo, Ceresit, Henkel AG & Co. KGaA, Ayush, Fix Polvo, 中华 – zhonghua, Elégance, Oral-B, Paul & Joe, Silhouette, Zira, 娜斯, 蒂思岚, Elie Saab, Dolly Wink Koji, Dream Magic Koji, Bain de Terre, Home Mat & Home Keeper, Astaluxe, Indulekha, Bio-Tech Schwarzkopf, Ceresit Stop, Johnson & Johnson, Aveeno, Neutrogena, Integrate, Spree, Calamine Lotion 明色カラミン, Tonino Lamborghini, Vera Wang, Joop Fragrances, Bourgeois, Sally Hansen, Nautica, Guess, Gucci, Rimmel, Bounce, Botanical, Natura Cera – ナチュラセラ, Liril, Auslese, Ermenegildo Zegna, Glow & Lovely, Chirat, MARIAH CAREY, Mitchum, Orofluido, Pureice, Revlon, Shirohada 白肌, Andy, Cold Power, Primavista, Fresh, Marna Cosmetics, Guerlain, Lan-Choo, MISSHA – 미샤 – 谜尚, Chacott, Deonatulle, 强生, Living Proof,
All Laundry, Neutromed, Matomage マトメージュ, Algenist, Safeguard, Ambi Pur, Lumina SkinPnk, Scunci, Vu Nettoyants, Fiancee, All Good, Mini Risk, Femfresh, Ohple オープル, Lynx – 凌仕, Ph Japan, Renuzit, 株式会社JRS, Rosette, Morepas Care, Shiwatorich, Tokishakuyakusan, Patrice, Gingham Bath and Body Works, Brooke Bond Taaza, Biossance, Instawhite, Paradent ACE, Fa (Henkel), Better Natured, 小林製薬, Beverly Hills 90210, Briogeo, Vitalis, Viktor & Rolf, Colour Specialist, Ishizawa, &free アンドフリー, Sunkiller サンキラー, Oxy, Majolica Majorca, A'pieu – 어퓨 – 奥馥, Tirtir, Peach & Lily,
Oral Plus オーラルプラス, Zen sect, Revlon Color Cosmetics, Revlon Colorsilk, Sundown, Le Petit Marseillais, Rogaine, Deciem, Regaine, Revlon Professional, Japan Gals, Glamglow, Moistlabo Ray, My Black Is Beautiful, Shiunko, Ban, Relief, Farmacy Beauty, Hatomugi Kumano, Sol de Janeiro, Eye Talk Koji, EyeTape Koji, Clio Cosmetics, Eyelash Curler series Koji, Breyers Delights, Yue Sai, Creed Boutique, Medik8, Conejo, Hazeline, Shirochasou, Brooke Bond Taj Mahal, XYLIDENT LION, Physicians Formula, Cleen Beauty, Green グリーンアロエ, Puresa プレサ, Tend, Barnängen, Victorias secret, Comfort, Rindex 3en1, 丝道琦 – Seedology, Magical マジカル, Megurich メグリッチ, KissMe P.N.Y, Cornetto, JRS Corporation, MERZY – 머지 – 陌姬, Arimis, Sariwangi, Mir, Globol, Ti-ina, Honest Beauty
Tabinoyado, Aquence, MyKirei, Memoto Omoi, Synactif, Bruno Banani, Kate Moss, Parera, Chloé, Katty Perry Parfums, 银座, Dicila, 芦丹氏, Bozzano, CoLourPop, Alexander McQueen, Boss (Hugo Boss), Miss Sixty, Lab Series, Dermalogica, Cremissimo, NAOS, Combat, Viss, Niod, SinfulColors, The Elizabeth Taylor Fragrance Collection, Kumargic, JWhite, Mandom Corp, Baby Veil, Eyelash Mellow Type Koji, E.L.F. elf Cosmetics, Wildfox, Colmans, Urban Decay, I:proof, Day2, Visee, La Carezza d'Amore, MarinaMarrine, Ralph Lauren Fragrances, Aube, Detclear, Naturelle, Häxan, Vicks, Drammock-Int, Nivea, Dr.Jart +, Pure&Mild, Tofu Moritaya-豆腐の盛田屋, TRESemmé, Alexander Style, Febreze, 杜得乐, Kobayashi.
Disclaimer
The information on this Web site is provided for informational purposes only. Maybe some of the data we haven't updated found yet.
Website visitors should take specific advice from the product manufacturer or authorized dealer before undertaking any action following information received from this website.
The website owners and publishers do not accept any responsibility or liability whatsoever whether in contract, tort, equity, or otherwise for any action taken as a result of reading, or reliance placed on the website because of having read, any part, or all, of the information in this website or for any error, inadequacy, deficiency, flaw in or omission from the information provided in this site.
Make The Tool Better
"A Brand has many Batch Code formats. We are collecting data from various sources. So we need your help if you have the new batch code or new brand. We will make it better. Thanks for your contribution!"